Goldto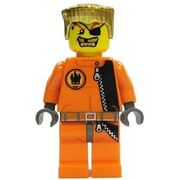 oth is one of Dr. Inferno's most loyal henchmen, he wears an eye patch and all of his teeth are gold. He oftenly carries a golden gun as weapon in most sets. He is the only henchmen, besides Dr. Inferno his employer, to be included in the first and second wave. He is in sets 8630 Gold hunt, 8967 Gold tooth's Getaway and 8635 Mobile Command Centre.
Ad blocker interference detected!
Wikia is a free-to-use site that makes money from advertising. We have a modified experience for viewers using ad blockers

Wikia is not accessible if you've made further modifications. Remove the custom ad blocker rule(s) and the page will load as expected.